Training
---
Smart Technocrats & Consultancy Services (STCS) provides training in the field of NDT & Welding Inspection. NDT Training & Certification to ASNT Level II is provided in Radiography Testing, Ultrasonic Testing, Magnetic Particle Testing & Dye Penetrant Testing. Welding Inspector training is provided to candidates who are having fabrication background and who intend to work as Welding Inspector. This training is also helpful to candidates pursuing for AWS or CSWIP Certification.
 At the conclusion of the course the participants should be able to: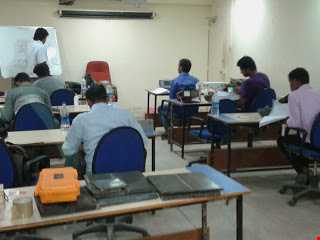 * Demonstrate their understanding of the body of knowledge in NDT & Welding
 * Explain the scope and limitations of the method
 * Select the appropriate equipment and accessories for the  employer's applications
 *Select the proper procedure
 * Select the proper calibration standards
 * Calibrate the equipment
 * Apply the method and
 * Interpret and report the result of the NDT & Welding
COURSES OFFERED
  Radiography Testing – II
  Ultrasonic Testing – I
 Ultrasonic Testing – II
 Magnetic Particle Testing – II
 Interpretation of RT
 W Liquid Penetrant Testing - IIelding Inspector
FACULTY
 Experts having vast experience in NDT operation conduct NDT Courses. Experts are from various industries having qualified ASNT Level III personnel who have spent their life in the profession of NDT.
FACILITIES
 Courses are designed, upgraded from time-to-time based on past experience. These courses are being held at our newly constructed centralized Air-Conditioned Conference hall. Latest equipments are being used at STCS to impart practical training. Course material may be collected in advance from office on enrollment.
MINIMUM QUALIFICATION REQUIREMENTS OF ASNT
  Level I 
a) Diploma in Engineering / Degree in Science – 6 month
---